On August 9, 2020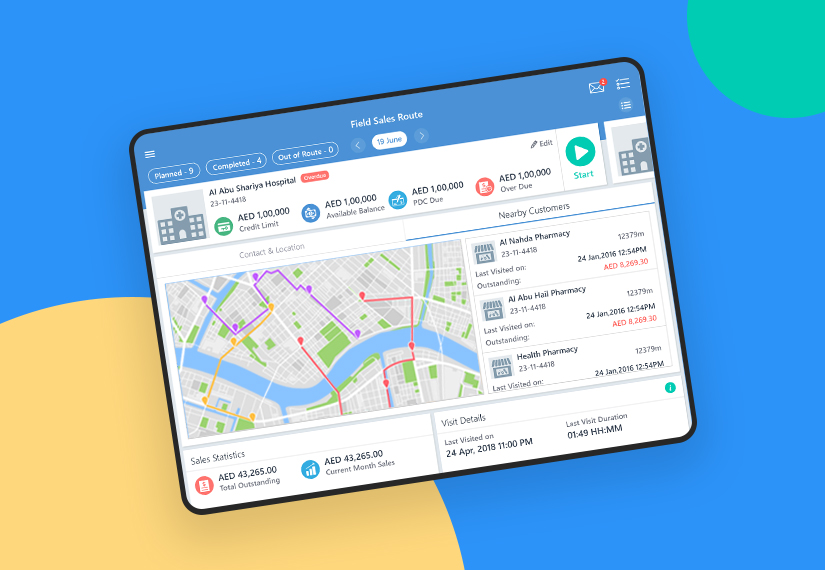 With the rise in urbanization and traffic congestion, the increasing need for fast or on-demand delivery, and the exponential growth in the volume of shipments has put a significant strain on delivery operations.
Without the assistance of software solutions like route optimization, it is impossible to manage large-scale delivery operations in dense urban areas.
Route Optimization is the process of determining the most cost-efficient route. It helps decrease fuel costs, improve customer service and reduces carbon footprint.
SalesWorx has been updated to now use advanced parameters to help determine the optimal route for the sales team and the delivery team in addressing customer visits. The real-time route planning helps your field reps avoid unexpected traffic congestion.
Leveraging digital technology and historical data, SalesWorx formulates the quickest and most fuel-efficient routes to destinations. This is hugely beneficial when your sales reps have multiple stops to make for client meetings or product deliveries. The route optimization module of SalesWorx saves your business time, money, and improves productivity.
Some of the parameters used in SalesWorx include:
Time & Distance
Traffic
Delivery Priority
Using the optimization module, the planning team would be able to request an optimal recommended visit and drop sequence directly and save time in planning the field operations team visits.
The mobile application also regularly monitors the visit sequence and updates the plan based on the time of day and current traffic conditions.
Sales reps can also visit other customers in the vicinity based on time availability or requests from customers using this feature.
With a better route plan, both the sales rep and the organization will see an improvement in area coverage as well as sales performance!
The Route Optimization feature helps in:
1. Enabling your sales reps to view their planned route and arrive on time at customer locations.
2. Prioritize planned visits based on the distance and the known location of the sales reps and customers.
3. Allows the sales reps to achieve their visit and delivery targets in a timely fashion.
4. Get to customer sites on time with accurate and realistic arrival times.
To learn more on how you can enable this automation in SalesWorx, please contact our sales team or your dedicated account manager.
By ucs_admin 0 Comments